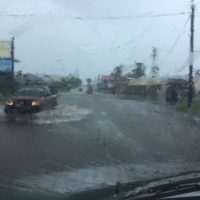 At a briefing at the Emergency Operations Center this morning,  Governor Lolo Matalasi Moliga has ordered that all public schools be closed tomorrow and Wednesday, due to bad weather.
While a complete assessment of schools has not been carried out, Director of Education Dr Ruth Matagi Tofiga reported that many schools are wet and campuses are covered with debris.
She said some schools are also being used as temporary shelters.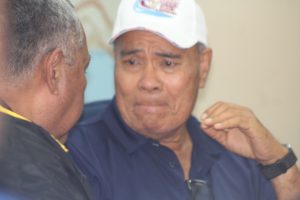 With the National Weather Service advising that a high wind warning will not be lifted probably until Thursday, the governor made the decision to close public schools for today and then assess if schools should resume based on weather conditions.
Elinor  Lutu McMoore Meteorologist In Charge at the National Weather Service says while winds have died down on Tutuila, Manu'a and Swains continue to experience damaging winds.
Tutuila should also be experiencing strong wind gusts tonight and tomorrow.
She said at least three weather systems milling in the area have the potential of combining into a serious formation. The NWS is monitoring this development closely.
There were 107 people in temporary shelters as of this morning.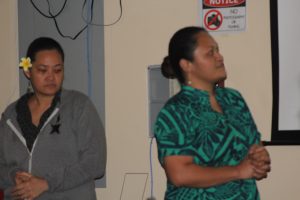 Tafuna Elementary-18
Samoana High School-9,
Aunuu LDS-15
Faleniu LDS-35,
Fagatogo Methodist-30 plus
Laulii Methodist -2 families
Manumalo Church-0
There's no food provided at the shelters at this time.
Pago Pago International Airport is closed till 5 pm. The perimeter fence is being repaired.
Ofu and Tau Airports are closed.
The port was opened this morning allowing the Polynesia to dock for unloading of  much awaited cargo. This is he first freighter to arrive in more than a month and its bringing food and water which have been in short supply.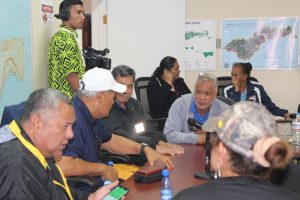 Hawaiian Air has announced that their flight from Honolulu and return tonight have been delayed 24 hours due to the bad weather.
There is a patient in Tau Island needing to be medivaced to Tutuila as soon as possible.
Contact is being made with Samoa Airways for a flight to Tau as soon as weather conditions permit. An ASG assessment team will also be sent to Manu'a
The Samoa Government vessel Fotu o Samoa is scheduled to arrive Thursday and will travel to Manu'a to take cargo for the government as well as individuals
The governor asked that there be two voyages by the Fotu o Samoa to Manu'a..
The Tafuna Community Health Center is now open 24 hours for non emergency and non serious treatment.
The governor asked ASPA to try and restore power to areas which have been without power since last night such as Pago Pago, Fagasa and Fogagogo.
Lolo also instructed the Director of Public Works to use private contractors to assist in clean up and recovery work.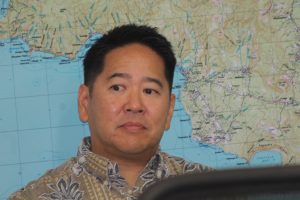 Personnel from FEMA who arrived last week also attended the briefing.