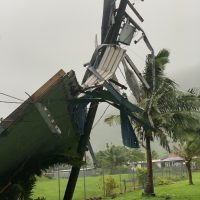 9:15pm…Wind conditions are not safe and the American Samoa Power Authority is asking customers to be patient while it waits out these strong winds.
Please STAY INDOORS and don't go out, unless it is for your own safety.
DO NOT attempt to move or touch any wires.
Once winds slow down, ASPA will respond.
If your area is still without power, please be patient and calling in multiple times will not get it on any sooner.
There are multiple outages affecting most of the island and ASPA will get them on once conditions are SAFE…
ASPA thanks you for your patience.