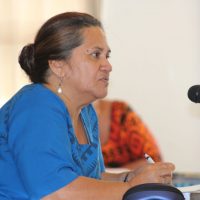 The Department of Education has achieved a milestone.
It has been informed by the Accrediting Commission for Schools, Western Association of Schools and Colleges-ACS WASC that six elementary schools have been granted 6 year accreditation status with a mid-cycle two day visit through June 30, 2026.
The accredited schools are Afono, Alofau, Le'atele, Leone Midkiff, Manulele and Masefau.
According to Director of Education Dr Ruth Matagi-Tofiga the 6 schools are the first batch to go through the accreditation process including the full study,
She says the second group will be going through their full study later this year.
"Our goal is have all our elementary schools accredited, just like our high schools."
The DOE Director points out that the process is lengthy and costly for the department but "it's worth it, when WASC validates the integrity of our school programs."
She offered congratulations and thanks to Principal Ana Vaiau of Afono; Principal Rhonda Huang of Le'atele; Principal Martha Sagapolutele of Manulele; Principal Sima Talo of Masefau; Principal Ulualo Tautala of Alofau and Principal Lemapu Suani of Leone Midkiff—Elementary Division, teachers, students, parents, government agencies and business communities for supporting our schools.