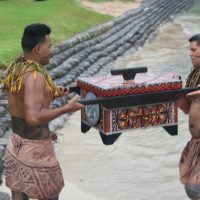 Play Audio
The Director of the US Mint, Mr. David Ryder presenting the first issue of the US quarter honoring the National Park of American Samoa.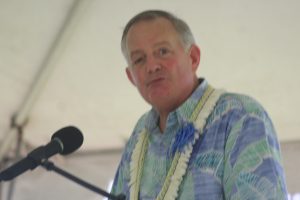 The quarter which depicts a mother fruit bat and her pup was launched at a ceremony at the Suiga ula o le Atuvasa in pouring rain this morning.
A siapo painted wooden case carrying 1,000 quarters was transported on the traditional voyaging canoe, Apaula, to Suiga ula and tatotted men, carried it to the stage where VIP guiests were seated.
Meanwhile a taupou performed the siva.
The guests included Congresswoman Aumua Amata, First Lady Cynthia Malala Moliga, Attorney Geenral Talauega Eleasalo Ale, Senate President Gaoteote Palaie, Monsignor Viane Etuale who gave the invocation, Stan Austin, Regional Director of the National Park Service, and Scott Burch Superintendent of the national Park of American Samoa.
Also present was Richard Marsters who designed the American Samoa quarter, Lydia Faleafine Nomura Department of Interior's Field Representative and directors.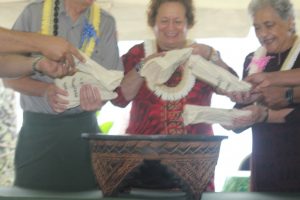 Tents on one side were filled with school children who entertained at the ceremony: Pago APgo Elementary, Samoa Baptist Academy and Pacific Horizons.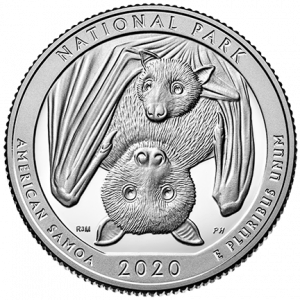 Director Ryder who has visited the territory before, the last time as an assistant to then Vice President Dan Qualye, spoke with admiration of the National Park of American Samoa staff.
He also recollected time spent with the late Governor Uifaatali Peter Coleman and his friendship with Congresswoman Aumua Amata.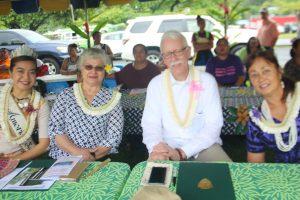 Mr Ryder said the coin designed by Marsters was one of the artist's best works.
Play Audio
Attorney General Talaueaga reflected on the Deeds of Cession and said that events such as this was the type of partnership that American Samoa's forefathers envisioned when they ceded these islands to the United States.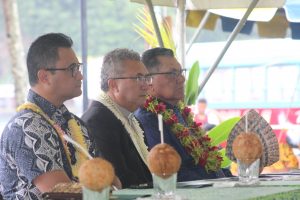 Play Audio
Other speakers were Congresswoman Aumua, National Park Service Regional Director Austin and Superintendent Burch.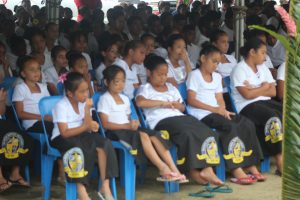 First Lady Cynthia, the congresswoman, AG and National Park officials later joined Ryder in pouring bags of the quarters in an ava bowl for distribution.
$10 rolls of the coins were also sold.