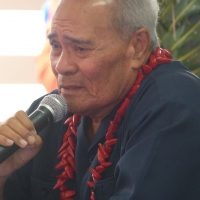 The governor has set up two commissions to assess current supplies of water, food and fuel, and make recommendations for a plan of action to address any supply issues.
A meeting of the two groups was held in the Governor's Office yesterday where Governor Lolo Moliga explained their purpose and named members.
Lolo has given the commissions the next couple of days to complete their tasks and provide a report at the Sunday briefing for measles and Coronavirus so that by Monday they can begin to draw up a plan of measures to take in response.
Lolo wants the food and water security commission to assess what's available in the territory now, not only imports but also local food and water production.
The same with fuel. Assess the current available supply and how long it will last if there are no ships coming in.
The governor said he wants a stocktake of supplies for the next 16 months and ensure that when their administratin leaves office fuel supplies are secure.
The governor suggested the possibility of banning food and water from China and other foreign countries and only allow imports from America and countires where food and water production are sound. Or maybe slap a tax on imports from foreign countries.
Lolo also wants the food and water security commission to look at local food production.
He said the group should sit down with the local bottled water producer to discuss an increase in production and how much the company can sustain.
The governor also asked for an assessment of School lunch Program supplies to determine how long they would last in the event there are no boats.
Director of Education Dr Ruth Matagi Tofiga said Manu'a currently has three months worth of supply. DOE had four charters to Manu'a to transport School Lunch supplies.
She said Tutuila has two months worth of School Lunch supplies on hand and new shipmenrs are due to arrive March 22.
Governor Lolo also discussed issues facing families receiving vouchers from the Department of Human and Social Services.
He mentioned that some are receiving $700 to $1000 and they are unable to buy everything at once. He said some families were spending $200 to $300 on food before but with their bigger vouchers, they are buying more food than what their refrigerators can hold.
KHJ News reported last week that increased purchases by recipients of Hurricane Gita vouchers through the American Smaoa Nutrition Assistance Program, coupled with delays in shipping, have caused shortages of water and food imports on the island.
The food and water security commission is chaired by the Director of Agriculture Sala Dr. Sataua Samuelu Mataese and DOE Director Dr. Ruth Matagi Tofiga and co chairs are Director of Commerce Kenisele Lafaele and businessman Solip Hong.
The fuel group will be headed by the Petroleum Coop and the Office of Disaster Assistance and Petroleum Management.