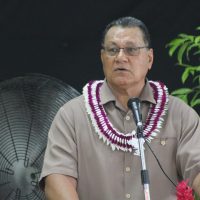 Statements by Senate President Gaoteote Palaie yesterday gives one the impression the Senate is depending on the executive branch to propose new laws or amend existing ones, even though lawmaking is the Fono's responsibility.
Senator Nuanuaolefeagaiga Saoluaga Nua had requested a status of bills pending in Committee so that action can be taken on pending pieces of legislation while there's time.
The Senate President said in response that by tomorrow the Senate Secretary will give a report of all the bills now before the Senate.
He added that some legislation which had been tabled have to be re-introduced as new bills.
Gaoteote said he has also asked the governor if there are any bills to be submitted for review during this session to bring them all in at the same time instead of submitting them one by one.
He said senators should not be coming to sessions and wait for bills from the administration, so he's asked the governor whatever bills have been drafted to submit them For the Fono' review rather than bring them in one by one.
The Senate leader added that if there are no bills to be reviewed then the Senate can take another recess.
The Fono just returned from a three week break Monday.
Gaoteote also indicated that the administration will be submitting some money bills,
Yesterday two administration bills were introduced in both the Senate and House.
One bans the importation and sale of stryrofoam containers and the other assigns 1% of the 2% wage increase that was earmarked for the off-island referral program to the Governor's Healthcare Porfessional Succession Initiative.