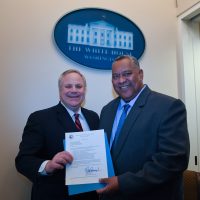 When he addressed the annual meeting of the Inter Agency Group for Insular Areas yesterday in Washington DC, Lt Governor Lemanu Peleti Mauga said the territory needs guidance and assistance from its federal partners to make use of the funding boost for Medicaid.
While the territory has been awarded $84 million for 2020 and 2021 that money cannot be used unless ASG can come up with a local match. Medicaid Director Sandra King Young has said that the local match needed is around $30 million.
Lemanu told the IGIA meeting the increase in Medicaid funding for US territories is a milestone worth acknowledging because such federal resources open extensive opportunities through the procurement of additional Medicaid providers to serve the growing medical needs of our people. However he pointed out that leveraging this health care windfall requires match funds.
He told the federal agencies represented that American Samoa seeks guidance and assistance "on how to optimize this opportunity by providing alternatives for local match to provide much needed health care and build capacity of our health care workforce, hence help grow the economy."
The lt governor also said American Samoa is seeking a long term cabotage waiver so as to open competition for air transportation and keep fares reasonable.
"We seek legislative support and approval to allow the US Department of Transportation to issue a long term cabotage waiver to American Samoa. This waiver would open up air transportation competition and help regulate domestic airfares at more competitive levels, effectively resolving the largest stumbling block in the development of American Samoa's tourism sector and foreign investors."
It was mentioned in Governor Lolo Moliga's State of the Territory Address that he has written to President Trump as well as Transportation Secretary Elaine Chao requesting a waiver allowing Samoa Airways to pick up passengers in American Samoa destined for Hawaii and the mainland.
Lolo said if this request is denied he has alerted American Samoa's Washington DC consultant to prepare to file suit against the US Department of Transportation "for purposely restricting our ability to grow our economy and displaying discrimination against our people."