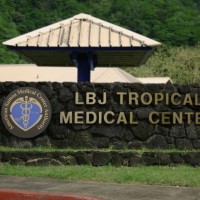 While attention is focused on measles and coronavirus, hundreds of people are turning up daily at the Emergency Room at LBJ Hospital and the community centers with flu symptoms.
Chief Medical Officer at LBJ Hospital Dr.Iotamo Saleapaga says this is the regular flu and it is widespread.
Symptoms include fever, cough, headaches and diarrhea.
Patients have complained about having to wait for more than 2-3 horus to be seen at the ER.
Dr Saleapaga says they usually have three doctors on duty in the ER.
He asks for the public's patience and understanding.
Dr Salaepaga also advices that people with the flu don't have to go to the hospital but can take care of themselves at home.
Take Tylenol, drink losts of fluids, rest and stay home till you're well.
He said parents should also ensure that children protect themselves from the rain ,and stay warm.