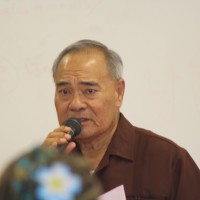 Governor Lolo Moliga today issued an order continue the measles public health emergency and expanding the declaration to included measures in response to the Coronavirus outbreak occurring around the world.
This extends the  emergency declaration for another 30 days up to February 28.
The order cites that there are 15 confirmed cases of measles in the territory, the last one occurring on January 17.
Measles remains a threat to public health as the vaccination campaign continues to target the eligible population of American Samoa.
And in addition to measles. an outbreak of the 2019 Novel Coronavirus which began in China has killed 130 people and has spread to 18 countries including Australia and the United States.
With 5,970 cases recorded so far, and no known cure or vaccine the threat of an outbreak and global epidemic is imminent and necessitates a response to protect the health and welfare of the people of American Samoa.
The continued and expanded public health emergency declaration includes strict immigration requirements one of the more drastic of which is for all foreign travelers, except for Samoa passport holders, to travel to the territory via Hawaii.
All OK Boards, entry permit waivers and transit permits for foreign nationals are suspended until further notice.
OK Boards for US nationals will continue to be processed with the added requirement of verifying countries traveled to in the previous 30 days,
All non-US Passport holders must obtain entry permits to travel to American Samoa .
The following restriction will be put in place immediately:
All foreign travelers, except for Samoa passport holders, seeking an entry permit must enter American Samoa through the Hawaii route.  The traveler must spend 14 days in Hawaii before entering American Samoa.
Travelers that have been in a country with Coronavirus must remain in an unaffected country for at least 14 days prior to arrival in American Samoa. Due to heightened risk, entry permits of travelers from affected areas may be denied even if all other requirements have been fulfilled.
All entry permit applications will be subject to a 30- day review period.  Approval of permits prior to the completion of the 30 days is not guaranteed and in no circumstances will a permit be approved before 14 days have passed from the time of application.
All entry permit applications must also include the following clearances: immunization clearance from Department of Health, health exam from Ministry of Health for Samoan citizens. LBJ clearance. court clearance, and Homeland Security clearance (for non-Samoan citizens.)
All travelers must provide confirmation on the countries they have been in the 30 days prior to entry.  In support of this requirement, permit applications are to include copies of passport pages showing stamps at ports of entry and departure.  The Immigration Office is tasked with verifying this information. Any traveler found to falsify or omit information will be immediately removed from the territory.
Samoa citizens must have a health exam administered and approved by the Ministry of Health 14 days prior to entry into American Samoa.
All children under 18 years of age must show proof of vaccinations for all required immunizations according to CDC recommendations.
An immigration bond of $500 per person will be required for all crewmen of vessels seeking entry into American Samoa.
In cooperation with travel requirements imposed by Samoa, all travelers to Samoa must receive a health exam 3 days prior to travel.  DOH is the only agency authorized to issue health exams. All health exams will take place at Tafuna Health Center.
The amnesty program for overstayers will close for registration on February 6, as previously scheduled.  The public is advised that there will be increased immigration enforcement efforts and all those who have not registered for the amnesty program will be subject to all applicable penalties including fines and deportation.
All other emergency policies currently in effect will remain so until further notice or expiration of his extended public health emergency declaration.
Click here for the full declarationDECLARATION-OF-CONTINUED-AND-EXPANDED-PUBLIC-HEALTH-EMERGENCY