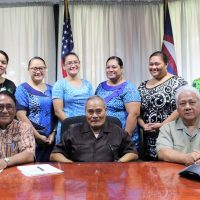 Three new medical students are headed for Fiji on ASG scholarships.  They will be joining four others now attending the Fiji National University.
The LBJ Hospital had six applicants for the medical scholarships however three withdrew leaving the three  young women who will be enrolled in the College of Medicine program in Fiji next month.
They are Anna Afoa. Jasmine Muasau and Talimeli Taufetee.
They and continuing students had an audience with Governor Lolo Moliga, CEO of LBJ Hospital Faumuina John Faumuina and the Chairman of the ASG Financial Aid Board, Senator Faiivae Alex Godinet, yesterday.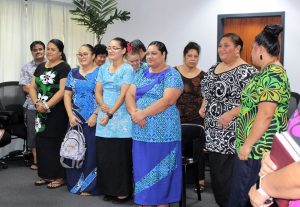 Current students attending FNU are Noel Anesi, Nerisa Faumuina, Mary Mataia and Noelle Niedo.
LBJ is also sending three students for the Certificate in Clinical Laboratory Technology which is a one year program.
Their studies will be funded through a technical assistance grant from the Department of Interior.
They are Amber Jungblut, Leva Joan Tauti and Fitilagipupula Togiola.