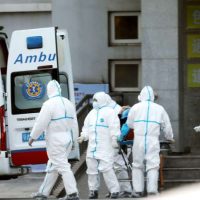 Director of Health Motusa Tuileama Nua says they are monitoring reports about the first case of the new virus Coronavirus, in Washington State.
He said with a big population of Samoans in Washington, they are gathering information and will be meeting with LBJ Hospital leadership to plan how to respond.
According to the Washington Department of Health the patient is a man in his 30s from Snohomish County who experienced symptoms after returning from a trip to China near where the outbreak began in Wuhan.
There's presently no vaccine for Coronavirus whose initial symptoms include fever, cough, tightness of the chest and shortness of breath.
The first cases which occurred in China last month were connected to a seafood market and transmission was thought to be occurring from animals to humans..  However human to human transmission is now confirmed.
The US Centers for Disease Control and Prevention said several countries including the United States, are actively screening incoming travelers from Wuhan and exported cases have been confirmed in Thailand, Japan and Korea.
Locally, residents are wary of the influx of Chinese citizens next door in Samoa, which presents a possible gateway for the virus to enter the territory.  Samoa has about ten scholarship students studying in Wuhan.
Meanwhile Prime Minister, Tuilaepa Sa'ilele Malielegaoi, says there is no need for Samoa to be alarmed about Coronavirus saying the Ministry of Health has made plans to counter it, should it reach Samoa.
He told Parliament yesterday "The  Ministry of Health has been doing their usual work to protect us from such a virus. I understand this virus affects the respiratory system."
Tuilaepa was responding to concerns raised by Opposition member Olo Fiti Vaai, who said Samoa should be on the alert given the number of Chinese coming to Samoa.
He urged that  Samoa should adopt American Samoa's no-nonsense approach to protect her people.
"Just like American Samoa did when they got wind that measles was in Samoa, their first response was to monitor the port of entries, the wharf and the airport. That's where they stopped the virus."
But Tuilaepa downplayed Olo's concerns.
"You just found out yesterday [about this virus]," he said. "And yet the Ministry of Health knew about it a long time ago and they have been making contacts and undergoing the usual preparatory works."
Photo:MSN.com