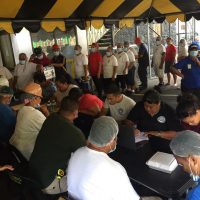 The measles immunization campaign is continuing,.
All Well Baby Clinics in Tafuna, Leone, Fagaalu, and Amouli will continue to administer Measles shot sor any other immunizations that are due, for babies 6 months and children up to 19 years of age. The clinic hours are 8am to 4pm.
DOH Teams will also be visiting the following schools to check immunization records from 8am – 2pm:*
*1/13/20 Monday-Fagali'i and Alataua II Elementry Schools
*1/14/20 Tuesday-Leone Midkiff and Pavaiai Elementary Schools
*1/15/20 Wednesday-Lupelele and Tafuna Elementary Schools
*1/16/20 Thursday- Manulele and Siliaga Elementary Schools
Adults needing MMR shots can get them at the following sites:
Leone Health Center* 8:00am – 4:00pm
Amouli Health Center* 8:00am – 4:00pm
Department of Human and Social Services (Utulei)* 8:00am – 2:00pm
Call the Measles Hotline (Command Post) 633-5871/5872 for any question or updates.