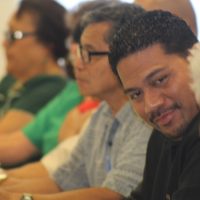 Jonathan Fanene made his initial appearance in District Court today in connection with a domestic violence incident over the weekend.
Fanene is charged with three misdemeanor counts of public peace disturbance, private peace disturbance and third degree assault involving his wife. His bail was set at $1,000.
Fanene's attorney Marcellus Uiagalelei said that his client had received approval from Asosciate Justice Fiti Sunia prior to the weendend incident to travel off island to visit his mother who is sick.
And he will also use the opportunity to tend to medical appointments.
District Court Judge Elvis Patea agreed and Fanene is to depart the territory tonight but will return January 23rd .  His case will be called on February 19th.
Fanene, formerly, Director of Youth and Women Affairs was charged last year for similar but more serious offences, where his wife and a sister were alleged victims.