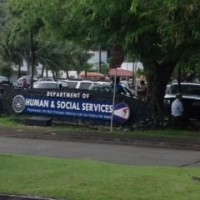 The Department of Human and Social Services announces that pursuant to new information and data collected since the Declaration of Continued Public Health Emergency was issued by Governor Lolo Matalasi Moliga on December 08, 2019, daycare centers will reopen Monday, January 13, 2020.
Twenty (20) out of twenty-two (22) child care centers are cleared to re-open to serve children whose parents are clients of the American Samoa Child Care Program.
However, to protect the health and safety of children in care and mitigate the spread of measles, only individuals with verified measles protection may access child care centers when they re-open.
Therefore, the following conditions will be applied and DHSS will be working with parents, along with child care providers and their staff, to ensure all conditions are observed:
1. Only children 6 months to 13 years of age whose MMR vaccinations have been verified as being current will be accepted for care. (A list has been given to each child care provider of children who are pending verification.)
2. Children less than 6 months old, who are ineligible for an MMR outbreak dose, are asked to remain at home at this time for their own safety. The Child Care Division will be contacting parents of these infants with further information.
3. Only child care employees/ caregivers whose MMR vaccinations have been verified will be allowed to report to work. (A list of those who have been cleared to do so has been issued to each child care provider.)
Even with these mitigation conditions our office can confirm that, as of the time of this press release, 20 of 22 child care providers with 185 MMR compliant staffers (97% of all who are employed in child care centers) are cleared to serve 860 children with current MMR vaccinations (95% of children 6mo's and older).
The child care centers cleared to resume conditional services starting next Monday are:
1. Airport (Tafuna)
2. Blessings (Leone)
3. Busy Bees I
(formerly Ds Matu'u)
4. Busy Bees II (formerly Ds Leone)
5. Boys & Girls Clubs of AS (Tafuna)
6. Catelaya's (Tafuna)
7. Jacey's I (Nu'uuli)
8. Jacey's II (formerly Jayce's, Nu'uuli)
9. Kana's (Vaitogi)
10. Kiki & Sam's (Tafuna)
11. Lanialofa (Pavaiai)
12. Little Angels (Vailoa)
13. Levalasi (Nu'uuli)
14. Manumalo (Malaeimi)
15. Miracle (Malaeloa)
16. Munchkins (Ili'ili)
17. Noa's (Onesosopo)
18. Slickers (Pago Pago)
19. Sunbeam (Auto)
20. Victory Chapel (Pava'ia'i)
• Parents whose children attend Christmas Daycare (Leone) and Hope House Daycare will be advised when they have been cleared to resume operations.
Also, all child care centers will be screening all visitors to ensure that only those with current MMR vaccinations are granted access to their facilities.
Finally, if you have been contacted by our Child Care Division to provide your child's immunization card and have yet to submit it, please do so immediately so we can clear them to resume services. For more information, please call the Child Care Division at 633-1571/ 1572.
DHSS appreciates cooperation, understanding, and assistance with ensuring that these conditions are observed so that we may continue to protect our children and prevent the further spread of measles in American Samoa.