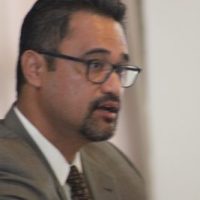 Attorney General Talauega Eleasalo Ale will be resigning next month to run for public office.
At Friday's cabinet meeting, Governor Lolo Moliga said that the AG had already advised him that after he files American Samoa's appeal on the Large Vessel Prohibited Area (LVPA) court case on February 5, he will be submitting his resignation the following weekend, so he could focus on his plans for political office.
Therefore Friday's cabinet meeting would probably be the last one for AG Talauega.
Lolo said the AG didn't say if he was running for governor or lt. Governor.
It has been public knowledge since last year that Talauega would be the running mate for Lt Governor Lemanu Peleti Mauga's bid for the governorship.
The governor said he had full confidence in Talauega when he chose him as Attorney General and he has shown his sense of being of service to the people.
Lolo advised the AG to put people first in everything he does as is the mantra of their administration.
He also told the cabinet members to also make this their focus because the moment they stray away from putting people first, they encounter problems.
According to the governor, if directors had put him, the governor before the people, they would not have accomplished all that they have for the territory.
The governor's words of advice to Talauega as far as his run for public office ware: "Be brave. When you have a brave heart you will have no fear. When you don't have fear you will accomplish many great things."
He wished Talauega well in his upcoming endeavor and told him to continue to serve the public. "Whether you go to the private sector or remain in government always put people first," said Lolo.