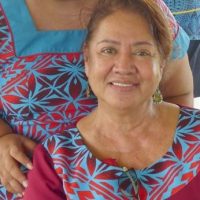 Governor Lolo Matalasi Moliga announced at a cabinet meeting yesterday the appointment of Taimalelagi Minnie Tuia as the Director of the American Samoa Visitors Bureau.
Taimalelagi had been assigned by the governor to oversee the ASVB since the departure in November of David Vaeafe whose contract was not renewed by the ASVB Board of Directors.
Since the start of the Lolo Lemanu administration in 2013, Taimalelagi has been Deputy Chief of Staff in the Governor's Office.
The governor told the cabinet on Friday that he and Lemanu have selected Minnie to head the ASVB with the blessing of the Bureau's Board of Directors.
Taimalelagi is not new to tourism.
She was Director of the Office of Tourism during the Lutali Administration.
Before that she worked in the Coastal Zone Management Program in what was the Office of Economic Development and Planning, now the Department of Commerce.
She has spent many years in business as one of the owners of a consultancy company, Pacific Development Corporation.
Taimalelagi becomes only the second Executive Director of ASVB since it was established by law as an independent agency.
Vaeafe, a New Zealand-born Samoan who previously worked for the Samoa Tourism Authority, was hired after an extensive search during which the position was widely advertised. Vaeafe held the position for ten years.
There has not been any advertisement of the ASVB Executive Director vacancy which Taimalelagi has now been appointed to fill.