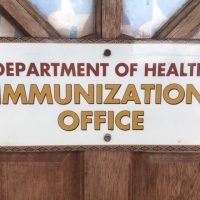 Health officials report that the  turn out at the vaccination clinics seem to be tapering off but it doesn't mean that vaccination coverage is close to their set goal.
Department of Health Epidemiologist Dr. Aifili John Tufa says whereas they were vaccinating more than 1000 daily and even peaked at 2000 one day when the island wide vaccination was in high gear, they're now averaging about 400 from all clinics combined.
He said they're not seeing the big crowds like before the holidays.
The number of vaccinations administered at the various clinics for this week were still being totaled and a full report will be given at the weekly briefing for the governor and cabinet on Sunday,
In its last report dated January 6, DOH said it had administered 13,195 MMR shots out of a targeted population of 15,841.
Dr. Tufa said they've made very good progress with the immunization of children who were not vaccinated or missing their second shot.
He said as of yesterday only 5 needed their first shot while 100 were missing their booster shot.
Dr Tufa emphasized that the undocumented population needs attention in order for the territory to attain the intended coverage.
He said ideally DOH should cross reference their records with Immigration so as to get a clearer picture of who has and hasn't been immunized, and direct the campaign to stop measles accordingly.