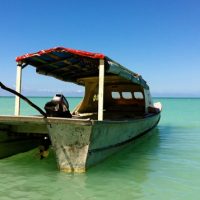 The coastal patrols under the public health emergency because of the measles outbreak are continuing and other than the alia which had been found entering without prior approval last month, there hasn't been any  other unauthorized vessels.
Under the emergency declaration all vessels must receive prior approval to enter the harbor, however the alia came in without obtaining prior clearance.
The alia belonged to a resident of Vatia who had purchased the boat from Samoa and was bringing it back here when it was stopped by law enforcement officials who were patrolling the coast as part of surveillance for the measles outbreak.
Director of Homeland Security Samana Semo Ve'ave'a said the movement of alia fishing boats have come to light with the after hours coastal patrols.
He says it seems that alia come and go as they please and dont have to report to any one agemcy that they're leaving  or returning to port.
Samana says the alia are now registering with the Department of Marine and Wildlife Resources and Port Administration when they go out on fishing trips and when they return.