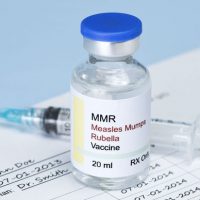 Health Director Motusa Tuileama Nua has assured that there's enough vaccines available to immunize the targeted population even if it goes beyond the 15,000 plus that they have set.  This includes the undocumented population
The Health Director told KHJ News that they have 6,000 doses on hand and will be ordering another 2,000 this week to last the next three weeks.
Motusa said the Centers for Disease Control and Prevention has been responsive to the Department of Health's request for weekly vaccine shipments.
He said an official from CDC who was here from Guam helped facilitate the  orders after the measles outbreak.
KHJ News asked the director about reports that a large quantity of MMR vaccines were discarded after an extended  power outage in November.
According to Motusa each center has a generator to provide power supply when island owner goes off. However the generator for one of their offices at Fagaima where vaccines were stored did not kick in after the outage.  As a result the vaccines stored there were compromised.
So they were discarded.
He didn't recall the quantity of vaccines which were discarded but said their total worth was $1,000.