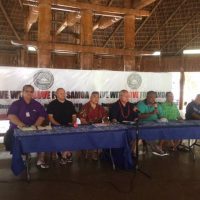 The Department of Health has now declared a measles outbreak in the territory after it received laboratory confirmation of blood samples from suspected measles cases  that were sent to Hawaii last  week.
There are nine confirmed cases, five of whom are travel related while four are locally transmitted cases. Six of the cases are adults and three are children.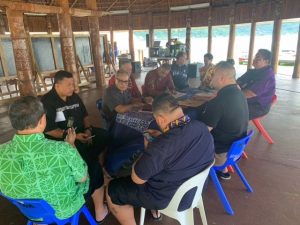 The outbreak was declared this afternoon and announced on television and radio from the Samoan fale at Suiga ula, following a meeting between Governor Lolo Moliga and key department heads.
Department of Health Epidemiologist Dr. Aifili John Tufa gave this information about the confirmed cases.
Play Audio
In  a follow up interview with KHJ News Dr. Tufa said their field investigations of the confirmed measles cases shows that there are people who have come down with measles but have not gone to the hospital.
And the fear is that they have exposed others adding to the spread of the disease and the Department of Health does not having any way to track them.
He said this does not appear to be an isolated case, but has occurred across the island and its possible that there are a lot more cases of measles "than we have been able to track."
Dr Tufa also pointed out that there have also been some resistance from families with members who have shown symptoms of measles.
The outbreak announcement triggered a big crowd turning up at the Tafuna Community Health Center to get vaccination shots.
When asked if they have enough vaccine supplies Dr Tufa said that a shipment would be arriving on Monday night.
As a result of the measles outbreak the Department of Education is closing all public schools until further notice.  This includes ECE, elementary and high schools.  Private schools have also been asked to close.
Director of Human and Social Services Muavaefaatasi John Suisala has announced that all daycare centers will be closed on Monday until further notice. He also said that effective Monday all recipients of food stamps must present their proof of immunization before they are allowed to enter the ASNAP Office.
Commissioner of Public Safety Lei Sonny Thompson also informs the public in order to help stop the spread of  measles that all bingo games, parties, and other gatherings will be stopped.  He said nightclubs and restaurants will also be asked to close. Police will be out patrolling for compliance.
The Departments of Homeland Security and Public Safety will be conducting sea patrols around the island for any vessels that may call in when the port is closed.  Homeland Security Director Samana Semo Ve'ave'a asks the public to report any fishing boats or vessels that are seen docking off their villages.
The  Emergency Operations Center was partially activated this afternoon.
The Department of Health asks residents to please report any family members or people that they may know of with symptoms of measles.
The symptoms are high fever, cough, runny noise, red, watery eyes and a rash starting from the head and spreading to the rest of the body 3-5 days after these other symptoms develop.  The measles hotline numbers are   633-5871 pr 633-5872.
The following are closure notices due to the measles outbreak:
All Catholic schools are closed effective Monday until further notice.
Pacific Horizon School is closed until further notice.
South Pacific Academy is closed undtil further notice.
The SAT test scheduled for tomorrow is cancelled; students to be notified of a new testing date.
Soccer Association Games are cancelled
Harbor Light Piano School & Teine Lalelei dance cancelled.
First Friday at the Fagatogo Marketplace is cancelled.
The "Alofa Foa'i Fua" roadside donation drive scheduled for tomorrow, Saturday Dec 7th in Nuuuli has been cancelled until further notice and pending further information from the ASG.