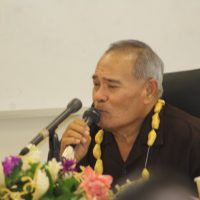 New members of the Board of Directors of the American Samoa Telecommunications Authority and the LBJ Tropical Medical Center have been appointed by the governor.
Dr, Tupulua Taase jins the board of ASTCA and Ufagafa Ray Tulafono has been appointed to the Hosptial Authortiy Board to fill the vacancy created by the passing of Utoofili Asofaafetai Maga..
Dr Taase is the Program Director of Network and Systems for the Department of Education.
Governor Lolo said Dr. Taase has broad experience in management, e-Rate policies and Network providers and is especially skilled at integrating technology and building an effective and productive relationship by maximizing the deployment of technology.
The governor assed that Taase brings with him a wealth of experience in utilizing technology to improve student learning and student outcomes.
He taught at the American Samoa Community College and part of the course was conducted as distance learning for students in Manu'a.
He monitors and maintains 64 school computer sites inclusive of private schools.
The appointment of Ufagafa Ray Tulafono is a recess appointment to fill a vacancy created by death.
The governor quotes the law that any vacancy arising during an unexpired term shall be filled by appointment of the Governor.
Recess appointments may be made to fill vacancies caused by death, resignation or removal for cause if the vacancy occurs while the Legislature is not in session.
Recess appointments shall expire at the conclusion of the next following regular or special session of the Legislature if they are not confirmed during that session. Incumbents may continue to serve after the expiration of their terms until a successor is appointed and confirmed.
Lolo said Ufagafa has a wealth of leadership and management experience having served as Director of the Department of Marine and Wildlife Resources for many years.