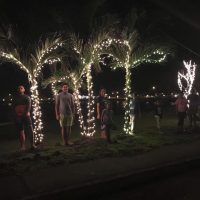 Its beginning to look a lot like Christmas at Matuu and Faganeanea.
On the evening of the first Sunday of Advent, the Christmas trees that line the sami side of the road from Faganeanea to the end of Matuu was switched on.
Play AudioMatuu-Faganeanea
First Lady Cynthia Malala Moliga had the honor of turning on the lights following a brief prayer service led by Rev. Fouvale Asiata .
This is the second year that the Matuu Faganeanea CCCAS has put on the Christmas village.
Rev Asiata said at the opening that the Christmas trees and lights are their congregation's way of thanking our leaders, Governor Lolo Matalasi Moliga and Lt Governor Lemanu Peleti Mauga, the government and people of American Samoa for their work during the year and wish them a happy and joyous festive season.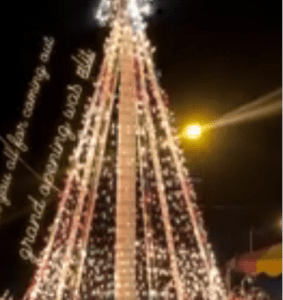 It's also to deliver the message of Christmas to sons and daughters of American Smaoa stationed across the world , thanking them for their service and showing them that they are in our thoughts.
Rev Asiata told the gathering that the government and people of Samoa, especially the families of those who have lost loved ones due to the measles epidemic are also remembered.
He also gave special mention of descendants of Matuu and Faganeanea who  live off island .
Rev Asiata said it was important to give thanks to God for the gift of His Son, and he hoped that through the shining bright lights of the Christmas trees now lining their village, everyone will remember the gift of Jesus Christ , which is the real meaning of  Christmas.