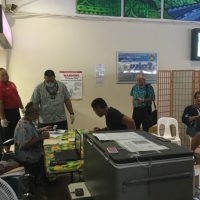 After inspecting measles surveillance operations at the airport yesterday, Governor Lolo Moliga has made a few recommendations concerning the handling of those not meeting the proof of immunization requirements.
The governor watched the health teams checking passengers on arrival and  process outbound travelers at the airport.
As explained by Director of Health Motusa Tuileama Nua, some of the affected travelers arrive in the morning and are not able to leave until the evening because of lack of space on the two inter Samoa airlines. These travelers are quarantined at a section of the arrival terminal.
The Health Director said the governor advised that health authorities work with the airlines to reduce the amount of time that travelers who don't meet the proof of immunization requirements are kept here, but to have them board flights to Samoa as soon as possible.
Also yesterday the Samoa patrol vessel Nafanua II was back in the territory to pick up oxygen tanks to help respond to the measles epidemic which has now claimed 53 lives.
Motusa said the boat arrived at 5 am and departed around 10 am with 97 oxygen tanks from Industrial Gases.
This was the 3rd oxygen delivery run made by the Nafanua in the span of one week.
According to the Health Director, Samoa's Ministry of Health is ordering directly from Industrial Gases and ASG is providing logistical support to ensure quick turnaround of the vessel.
In the latest report from Samoa on the measles epidemic, all government offices will close for 48 hours this week to allow government employees to assist with the compulsory immunization campaign.
Prime Minister Tuilaepa Sailele Malielegaoi said in a radio and television address to the nation yesterday that all government offices will close except for the utilities, Samoa Water Authority and the Electric Power Corporation.
The government shutdown is on Thursday, December 5 and Friday, December 6.
With the weekend, this will give a total of four days to push the national immunization campaign, particularly in less populated areas with little or no public transport.
With 53 confirmed measles related deaths as of yesterday, there is now a race against time to contain the fatalities below 100 before the end of the State of Emergency period.
To date, 3728 cases of suspected measles have been recorded and this number is growing by more than 100 every 24 hours.
Tuilaepa said more than 50,000 have been immunized since the State of Emergency was declared November 16.
He called on all community leaders to take the lead in the mass immunization campaign and prevent any more deaths from measles.
Play Audio
He expressed thanks for the various assistance being offered by countries and organizations around the world including American Samoa which he said was providing logistical support.