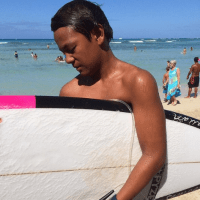 Liam Wilson won the Under 18 Boys Division at the 2019 Oceania Cup in Savaii which concluded Tuesday.
The 17 year old from Aiea, Hawaii competed against Savaii surfer Puleiata Martin.
The overall winner of the competition was New Zealand which claimed titles in the Open Mens, Open Womens and Under 18 Girls Divisions.
Samoa placed 2nd, and Tahiti and Australia tied in 3rd place in the overall standings.
American Samoawas 5 th and Vanautu placed 6 th.
Liam was the only American Samoa surfer at the competiton which will have its debut at the World Olympics in Japan next year.