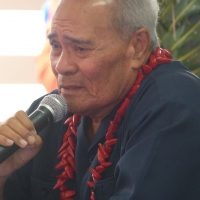 Governor Lolo Moliga who returned home last night after two weeks in Hawaii, was given a full briefing by the Department of Health this morning regarding efforts to protect the territory from the measles epidemic in Samoa
Director of Health Motusa Tuileama Nua said epidemiologist Dr. Aifili John Tufa gave a report on the vaccination campaign and efforts to prevent any locally transmitted measles cases while Deputy Director Papalii Marion Fitisemanu reported on measles surveillance at the airport and dock.
Motusa said the governor was also given the latest reports from Samoa on the measles epidemic.
He pointed out that the governor wanted to find out the latest information regarding the measles situation so that he could make a decision on whether or not to continue the state of emergency.
Motusa said after hearing their reports Governor Lolo decided that with the death toll from measles still climbing , it was necessary to maintain the 30-day state of emergency which was issued on November 13,
The state of emergency includes travel restrictions for travelers from Samoa and other countries with measles outbreaks.