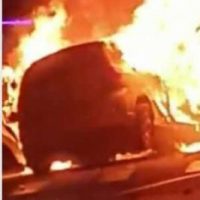 A traffic accident in the early hours of this morning has claimed the life of a young man friends say was destined for a bright future in representative rugby.
Internet posts indicate Joseph Une of Vaimoso and Poutasi, Falealili, had recently been selected in the Samoa Rugby Union U23 squad and had been at training with the team all week.
He is reported to have died in the accident.
A post by a friend on Facebook said, "A young man Joseph Une was pronounced dead at the scene."
"Another young man has been seriously injured and he has been admitted to Motootua hospital," said the post.
The Samoa Observer quotes Lotomau Fuimaono one of the first people to arrive at the scene saying that when they arrived a white Hyundai Getz was on fire.
He and two friends tried their best to pull out the two people in the car, both males.
"Both passengers were severely injured with only one conscious and able to speak while the other was not."
The eye witness told the newspaper they left the matter in the hands of the proper authorities.
A fire truck arrived at the scene first.