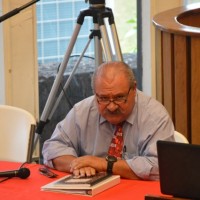 The Board of Directors of the Shipyard Services Authority has accepted the resignation of former CEO Moefaauo Bill Emmsley.
This was confirmed by the Chairman of the Board Liu Siakisone Liu, who is now overseeing the government shipyard.
The board had placed Moefaauo on administrative leave a week ago which according to Liu was temporary while the board was trying to determine how best to move forward with the repairs to the slipway following a derailment incident.
Liu said that the former CEO had been off island when the derailment incident took place and the board decided it was best for him to step aside while they review what happened and mitigate the damage.
However Moefaauo has submitted his resignation which the board has accepted said Liu.
KHJ News has made several efforts to obtain comment from Moefaauo but phone calls have not been returned.
Asked if the former CEO cites his reason for resigning, Liu said Moefaauo indicated in his letter that he is retiring.
In the first term of the Lolo Lemanu administration, Moefaauo was CEO of the American Samoa Telecommunications Authority but was later removed by the ASTCA Board and he was then appointed as CEO of the Ronald Reagan Marine Railway.
Asked what will happen with repairs to the slipway, Liu said that they will scare the services of a marine engineer to advise how best to proceed with the work.
He said the actual work will be done by the shipyard crew.