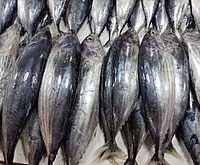 An oversupply of skipjack tuna has led raw material prices for delivery in Bangkok, Thailand to dive from $1,600 per metric ton in March to $900/t this month, a record low.
This has caused many purse seine boats around the world to operate at a loss.
Prices are expected to drop even further in the near future -with some exchanges already done at $850/t in recent days- a situation that is seen as unsustainable for most tuna fleets.
KHJ News has sent questions to StarKist concerning the oversupply situation and reports that the cannery is rejecting a large amount of catches delivered to its local plant due to the oversupply, but there has been no response from company headquarters.
The World Tuna Purse Seine Organization (WTPO) will hold a meeting on Nov. 13 in Manila, the Philippines, to discuss the market and catch situations in relation to "concerns" raised by WCPO and Western and Central Pacific Fisheries Commission members.
Stakeholders were willing to meet at the end of October, but the summit had to be delayed until mid-November to allow more of the members to participate, sources told Undercurrent.
The head of a tuna fishing firm active in the Western Pacific Ocean told Undercurrent News that vessels continued to fish despite the sharp price drop, to cover their vessels' costs.
"The problem, why fishermen still continue to fish, is because of the expensive vessel days that they have purchased. If they catch, the loss is less than losing $20,000 per day, of which half is the days' cost in the Pacific," he said.
Multiple sources said it was possible prices could further fall in December and January, amid strong supply — especially in the Western Pacific — and relatively low demand. However, four months at $900/t or less is absolutely unsustainable for any fleet.
Another trader pointed out that high fishing levels were depressing prices. "If they [tuna fleets] were to stop fishing, the situation would be solved a little", he said. "Instead all the shipowners are worried, they complain about losing money but they continue to fish".