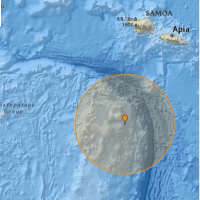 This is an information statement from the American Samoa Department of Homeland Security – TEMCO issued at 10:50. Thursday, November 7, 2019.
The National Weather Service Pacific Tsunami Warning Center in Hawaii issued a information statement only to advise that a 6.2 magnitude earthquake occurred 130 miles South of Upolu 50 miles deep in the ocean.
Available data of a destructive Pacific-wide tsunami was not to be expected and therefore no tsunami threat or danger was expected for the region and Samoa.
This will be the only statement for this event unless additional information is made available.
O se fa'aaliga taua lenei mai le Matagaluega o le Puipuiga o le Saogalemu faa-Lotoifale – le Homeland Security ma le Ofisa o le TEMCO, auina mai i le itula e 10:50 i le afiafi nei, Aso Tofi, Novema 07, 2019.
Ua fa'ailoa mai e le NOAA – Ofisa e gafa ma Tsunami i le Pasefika i Hawai'i, na lulu se mafui'e e tusa ma le 6.2 lona malosi i Saute o Upolu i le afiafi nei, Aso Tofi, Novema 07, 2019.
I su'esu'ega uma, ua fa'ailoa mai ai e "LEAI SE A'AFIAGA OSE TSUNAMI" po'o se galulolo ua tula'i mai ai e ona a'afia ai Amerika Samoa.