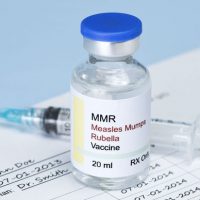 The Department of Health is getting help from the Department of Human and Social Services in checking on imminization of infants and children in daycare centers to protect them from measles.
DOH's  Director of Nursing Margaret Sesepasra says since daycare centers come under DHSS they've reached out for help to make sure that this highly susceptible age group is protected from measles.
The concern is with infants 1 to 6 years, said Sesepasara.
Daycare center providers will assist in checking the immunization records of children in their care and if they are not immunized for measles, parents will be urged to have them vaccinated.
Sesepasara explained that they cannot take the vaccines out because they must be kept at specific temperatures or they would spoil and not do the job they're supposed to do.
Its also important that nurses see the immunization records of the children before vaccinating them to avoid administering the shots twice.
Sesepasaa reports that clinics have been full and is thankful that parents are responding positively to the announcements about measles.
"The reports of measles related deaths from Samoa is making them scared," said Sesepasara.
She said when she arrived at the Tafuna Health Center before 7″30 this morning there was already a big crowd.  And even high school students in school uniforms were there.
Many students are being sent home because their immunization shots are not up to date.
Meanwhile Samoa's Ministry of Health is looking into the death of a two year old boy who may be the fourth measles related death in the country,
Health authorities say the latest death is being investigated to see if it was caused by measles.
But the Samoa Observer reports the child's mother and sister have been infected with measles.
There are now 513 suspected cases of measles with results still pending from an Australia lab regarding the recent death of two infants and an adult male who showed clinical signs of the disease.