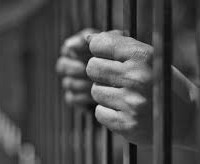 Four inmates charged with escape from confinement at the Territorial Correctional Facility last month were arraigned in High Court this morning.
Elliot Siaumau Jr.,  Thomas Siaumau, Gabriel Tinae and Pati Lepou are alleged to have left their cells at the TCF on the night of October 19 for a few hours.
Also charged in the same incident was inmate Falaniko Fetoai however during  preliminary examination, District Court Judge Elvis Patea did not find probable cause to support the charges against him.
The Samoa News reports that the only government witness in the preliminary examination of the escapees  was Police Det. Toia Levao.
He testified that from his investigation, an officer discovered that the inmates were missing from their cell during a head count on the evening of  October 19.  Guards entered the cell and did a thorough search but there was noone in the cell.
As officers were looking around the TCF compound for the missing inmates and for evidence of how they could have escaped, Elliot Siaumau Jr., entered through the TCF front gate.
A few minutes later Thomas, Lepou and Tinae entered through the main gate.
As TCF officers escorted the four escapees back to their cell, they saw Falaniko coming from a dark area inside the TCF compound.
The investigator said when he asked Falaniko where he had been he said that he hid because he was afraid if he was found before the other four were located they may think he ratted on them.
Elliot Jr's statement to police is that he walked through the front gate to his family's home in Petesa looking for his brother Thomas.
When he couldn't find his brother he was dropped off by a vehicle at the front gate of the TCF.
The other four inmates refused to give statements.
Assistant  Public Defender Bob Stuart in cross examination asked the investigator how he determined the inmates had left their cell.
Levao said he interviewed several TCF officers and based on what they observed, he determined that the inmates left the TCF compound without permission or order of the court.
Stuart asked if  the TCF officers see all five inmates walk through the main gate .
Levao responded no and added that only four inmates walked through the main gate. Inmate Falaniko was found at the dark side of Bravo Unit inside the TCF compound.
District Court Judge Patea said the government's evidence proves that the four inmates allegedly left confinement, and were seen making their way back to the TCF compound through the main gate.
For inmate Falaniko, Patea said he doesn't see any probable cause to bind his case over to High Court and the charges against him are dismissed.