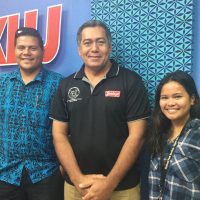 Local anglers will be spending part of their long Veterans Day weekend trying to hook them up and reel them in.
The Fagota mo Taeao Fishing Tournament, organized by the National Marine Sanctuary of American Samoa,  the Department of Marine and Wildlife Resources and sponsors, is this Friday and Saturday.
The tournament promotes sustainable fishing and awareness of fishing regulations around marine sanctuary sites.
The organizers have lined up attractive cash prizes as Shaun Felise of DMWR explains.
Play Audio
A captains meeting is being held at 11 o'clock today at the Tauese P Sunia Ocean Center and its mandatory for all fishing vessels that will be participating in the tourney.