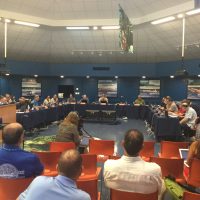 Congresswoman Aumua Amata says US negotiators went backwards when they reduced 700 fishing days in the current South Pacific Tuna Treaty.
The treaty with 16  Pacific Island countries, allows US fishing boats to fish in the 200 mile exclusive economic zones of those countries.
Speaking at the opening of the 180 th meeting of the Western Pacific Regional Fishery Management Council yesterday, Aumua talked about the challenges facing the US fishing industry and her efforts to help US purse seiners who are struggling because of competiton from other fishing nations.
Play Audio
Yesterday Archie Taotasi Soliai, one  of the three Council members from American Samoa was sworn in as the new Council chairman.
Also on the first day of the Council meeting, Mike McDonald, Territorial Planner from the Department of Commerce provided a report on the importance of the cannery to the American Samoa gross domestic product (GDP).
According to a recent report, he said, if StarKist Samoa was to shut down it would be a $200 million loss, which represents one third of the Territory's GDP.
He said the cannery provides 25 percent of the jobs and effectively subsidizes the cost of freight and fuel to American Samoa, as the cost of both would be significantly more if StarKist were not in the Territory.