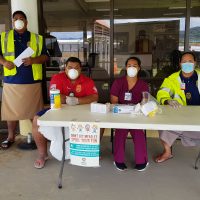 Local health authorities are not leaving anything to chance with the current measles epidemic in Samoa.
Since Thursday of last week, Department of Health nurses wearing masks and gloves, have been stationed at Tafuna Airport everyday checking on passengers arriving from Samoa for any signs of the symptoms of measles.
DOH teams were also at the inter island dock last Thursday checking on passengers arriving on the Lady Naomi.
John Fuimaono, Head of the Environmental Division of DOH said every passenger on the vessel was screened by DO. The captain and crew were also checked.
And when the ferry departed for Samoa, DOH announced that there was a measles epidemic in Samoa and any local resident who contracts measles while in Samoa must go to the hospital for treatment.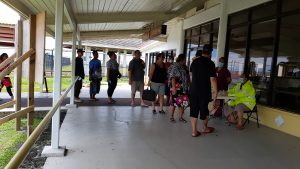 It was also explained that they should stay in Samoa until they are well because if they return with symptoms of measles, they will be quarantined and not allowed to disembark.
Fuimaono said there have not been any travelers with measles since their measles surveillance began.
DOH will continue the surveillance until the measles epidemic in Samoa is cleared.
Suspected measles cases according to DOH's definition are travelers with fever, raised red non blistering rash, runny nose or conjunctivitis.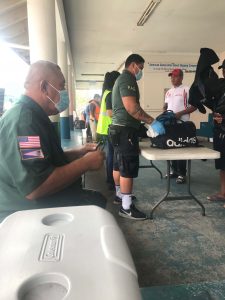 Health authorities have stressed that immunization is the best defense against measles. Parents are urged to have their children immunized for Mumps, Measles and Rubellla at the nearest community health center.
DOH is also moving to enforce the law on immunization and remove school children that have not received their required immunization shots.
According to DOH stats, 62% of children from K5 to Grade 12 in private and public schools have received two doses of MMR.
17.3 % have received only 1 dose while 20.6 % do not have any record of receiving an MMR shot.