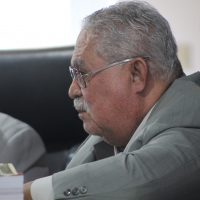 "Let's move with caution, we don't want to be swallowed by sharks and have only our feet hanging out of the sharks' mouth. "
So said Senator Tuaolo Fruean during discussion of an administration bill to amend the Foreign Investment Act.
The House of Representatives approved the bill before the Special Sesison of the Fono adjourned Friday but the Senate voted to table it until the next Fono session.
Attorney General Talauega Eleasalo Ale explained at a Senate hearing on the bill that financial requirements which the new bill would remove are already included in immigration law. These require a financial report certified by a registered and certified public accounting firm, as evidence that the foreign investor has made available or obtained financing for an investment of at least $1 million for an individual enterprise, $250,000 in a corporation or capital of at least $5 million for a partnership.
The AG pointed out that the main change is for the proof of such financial requirements to be submitted in electronic form.
Senator Tuaolo questioned if there was any major investor waiting in the wings, to warrant the amendments being on the agenda of the Special Session.  '
He warned that the territory should protect against what is happening in other islands of the Pacific where foreigners, particularly Asians, have taken over the business landscape and there have been violent clashes with the indigenous people of those countries.
Senator Faiivae Alex Godinet doubted if the financial requirements for foreign investors are enforced, looking at the proliferation of businesses owned by foreigners.
He said businesses that used to be operated by locals are nearly non existent, they've all been taken over by Asians.
Faiivae said locals cant compete with these foreign owned businesses.  He said the typical scene at a store, is that the only jobs for locals are stocking shelves and cleaning.  He said  if nothing is done to stop this, "our children and grandchildren will not know where to go and what to do to earn a living in the future."
Adding her voice to the discussion Senator Fonoti Tafaifa said with the current takeover of businesses, big and small by Asians,  "we look uneducated,  we are foolish, we don't know how to run businesses."
Senator Tuiagamoa Tavai who chaired the hearing urged his colleagues not to be afraid of change.
He said, "We cannot build our territory by ourselves.  We need the help of these people to develop our economy and provide opportunities for our people."
Senator Tuaolo quoted from a report by the Office of Financial Institutions which placed China as the top destination for remittances from American Samoa with a value of $9.7 million. Samoa follows but Tuaolo didn't give the value of remittances to Samoa,  Philippines was third with $5.3 million and Vietnam was third with remittances of over $2 million.
Tuaolo urged caution with the proposed bill and recalled the words of the late Senator Salanoa Aumoeualogo who said small fish shouldn't wander to the deep ocean or they will be eaten by sharks.
Tuaolo said if we're not careful "we will be swallowed by sharks with only our feet hanging out."