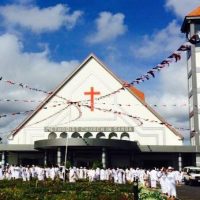 A Methodist church minister has confessed to church leaders that he rape a 16 year old girl and has been relieved of his pastoral duties and is now in Police custody.
General Secretary for the church, Rev Dr Eteuati Tuioti told the Samoa Observer said an internal investigation ended with the minister confessing to raping the young girl and he was immediately dismissed.
"The Ministerial meeting endorsed the decision to dismiss the church minsiter of his role permanently," said the General Secretary.
Deputy Police Commissioner Papalii Monalisa Tiai-Keti confirmed the minister was in custody and will make his initial appearance in court soon.