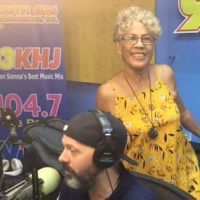 Tisa Faamuli, founder of Tisa's Tattoo Fest is worried that moves by the Department of Health to regulate tattoo artists will keep practitioners of Samoa's ancient art form away from this year's fest, next weekend.
But according to Aileen Solaita of the Environmental Health Division, it's all for safeguarding the public's health.
Tisa had this to say on the Samoa Sunrise Show this morning.
Play Audio
Aileen Solaita of DOH tells KHJ News that last week they advised the festival organizers that they needed to provide information about the festival to the Director of Health, including the tattoo artists who will be involved.
She said all tattoo artists need to have a health permits which includes a blood pathogen certificate.
They also need a business license from DOC.
Solaita said DOH needs to inspect the area where the tattooing will be done to ensure it meets sanitation standards.
Previously DOH confiscated tattooing tools from visiting artists and Solaita said they need a list of artists associated with the festival so they could check on the equipment and also the artists' certification.
Tisa believes DOH should be more accommodating.
Play Audio