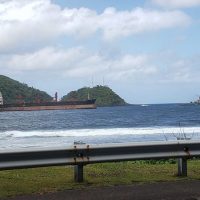 This afternoon the North Korean cargo vessel, Wise Honest is out of American Samoa's Exclusive Economic Zone.
The cargo ship, which is being sold for scrap metal, was towed out of Pago Pago Harbor  after 2 yesterday afternoon to an unknown destination.
Following a five-month stay in the port of Pago Pago, the 580-foot motor vessel connected to U.S. sanctions violations departed under tow yesterday.
A press release said the US Coast Guard, in conjunction with interagency partners and port authorities, made appropriate preparations for the arrival and sustainment of the vessel in Pago Pago.
At various times over the five months, the Coast Guard conducted safety and security patrols in and around the ship with teams from Maritime Safety and Security Team Honolulu, Sector Honolulu, USCGC Joseph Gerczak (WPC 1126), USCGC Walnut (WLB 205), and the Marine Safety Detachment in American Samoa.
"We are deeply committed to working closely with our partners and allies to advance maritime governance as part of the rules-based international order essential to a free and open Indo-Pacific," said Capt Arex Avanni.
"Safe flow of maritime commerce in and out of the Port of Pago Pago is a priority of the U.S. Coast Guard."
During budget hearings, Port Director Taimalelagi Dr. Claire Poumele said her dpeartment had received $46,000 from fees and charges for the Wise Honest for the first three months.
She said an additional billing for the months of June to August should bring in at least $90,000 for Port Administration.  It's not known whether that money has been received.