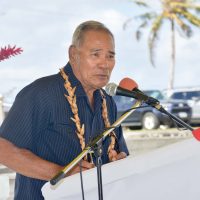 Lt Governor Lemanu Peleti Mauga is Acting Governor while Governor Lolo Moliga is off island.
The governor departed the territory last Thursday and is expected to be away for two weeks.
While theres been no official information from the Governor's Office on the governor's trip. sources tell KHJ News that the governor is headed to Seattle for a check up.
Governor Lolo was admitted to Swedish Hospital in March where he had a heart stent implanted and also underwent kidney treatment.
He remained as an outpatient up to July when he returned to the territory.
Traveling with Governor Lolo and First lady Cynthia and a security officer.