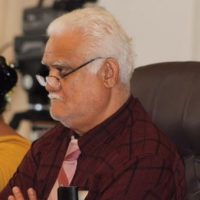 At a Senate hearing last week, Treasurer Ueligitone Tonumaipe'a explained to lawmakers the funding sources for Senate Bill 36-22, which seeks to build a cement wall around the Territorial Correctional Facility as well as sea walls to protect the coastline around Aua.
The bill identifies fiscal year surpluses from FY2017 and FY2018 and the FY2017 ASH cable dividend as its funding sources.
According to ASG's FY2018 Audited Financial Statements, ASG's accumulated budget surplus as of September 30, 2018 equaled $3,876,174.
At the hearing, senators correctly pointed out that the accumulated budget surplus should have been included and appropriated through the Fiscal Year 2020 budget.
It should be noted the Fiscal ear 2020 budget the Governor signed into law, erroneously lists the bond payments at $8 million even though the correct amount is $12 million.
If the correct amount was included, $4 million of additional local revenues would have been needed to balance the budget.
While not sufficient, the accumulated budget surplus would have made up much of the shortfall caused by this mistake. ASG is now caught in a dilemma: Pay the correct amount and break their own budget law or default on the payment for the 2018 Revenue Bonds.
The Treasurer reported the bill's other source of revenue as $550,000 from the 2017 ASH Cable dividend.
However, this amount represents only the cash portion of the dividend. In its totality, the 2017 dividend equaled $3.55 million of which $3 million was loaned to ASTCA by ASG to pay ASH. ASTCA owed ASH $3 million at the time of the dividend payout.
While this transaction was treated as a bookkeeping entry, it too should have been referred to the Fono for appropriation along with the $550,000 before being spent.
The Treasurer further reported that the accumulated surplus includes the $2.6 million ASG received under the multi-million settlement payment from Starkist Co. and StarKist Samoa for violating pollution laws in territorial waters.
He failed to mention the $550,000 ASH Cable dividend is also included in the accumulated budget surplus. Consequently, the bill effectively double counts the dividend as a source of revenue.
Construction of the TCFNwall has already begun with work being performed by Paramount Builders, Nanas and Happy Trucking.
The Senate has approved the bill in final reading with an amendment, which is to remove as a funding source the surplus from FY2017 since that funding was the beginning Fund Balance in the ASG General Fund for FY2018 and has been used,