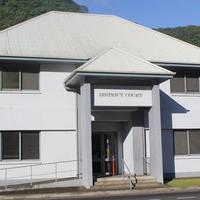 A woman is behind bars on bail of $15,000 charged with stealing ad embezzling  more than $40,000 from her employer.
The Samoa News reports that the defendant, Marietta Lafitaga, says she used the money to pay medical bills for her ex husband, church donations , a family trip to Savaii and other personal expenses.
The alleged theft came to light when her employer discovered a discrepancy between bank statements and the company's records.  The bank statements showed a balance of $51,741 while the company's records showed a balance of $147,312.
When asked about the discrepancy the defendant told her boss that the company was experiencing problems with their system and they were trying to correct it.
However the next day she confessed that she used the money.
An internal investigation was conducted by the company to determine how much money was actually missing. The probe showed that the company was missing almost $55,000.
Court documents said that Lafitaga allegedly confessed that she started taking money in 2017 because she needed to pay some debts including medical bills for her ex husband.
The company owner told police that the defendant promised to pay back the money she took, which she said was $43,000.
However she later informed the owner she couldnt repay the money and suggested working without pay so as to repay the money she took.
Lafitaga made her initial appearance in District Court last week and a preliminary examination is set for October 11th.