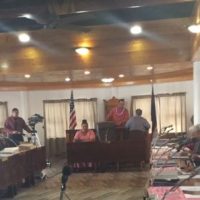 While the public eagerly awaits news on the bill to increase the salaries of the governor and lt governor, it looks like the bill will be tabled until the next Fono session in January.
On Friday Senator Tuaolo Fruean had announced a hearing on Wednesday to discuss the bill however this morning Senator Magalei Logovii, Chairman of the Budget and Appropriations Committee informed senators that the bill will be set aside since it's not on the agenda of the Special Session.
He said the bill will be tabled until the next session next year.
Today the Senate approved in final reading the funding bill for a security wall for the Territorial Correctional Facility and construction of seawalls.
An amendment proposed by Senator Magalei was approved before the final vote on the bill. The amendment was to take out the surplus from Fiscal year 2017  since according to Magalei the surplus from that year had already rolled over into FY2018 and used as the beginning Fund Balance for Fiscal Year 2018.
The only funding sources for the projects now in the Senate version of the bill are the surplus for Fiscal Year 2018 , and the dividend from the American Samoa Hawaii Cable.
Magalei reported that the FY2018 audit report for ASG confirms the surplus  which is reflected in the beginning Fund Balance for ASG for FY2018.
The Senate also voted this morning to table until next year the bill proposing changes to the Foreign Investment Act, as they needed to question Director of Commerce Keniseli Lafaele about the proposed legislation, and he is off island.
Attorney General Talauega Eleasalo Ale explained that the amendments would make it easier for foreign investors to do business in the territory.
But senators were worried that making it easier for foreigners, especially Asians to set up companies here, would add to the current situation where foreigners have taken over businesses that had previously been owned and operated by locals.
They said if this is not curbed now, our children and grandchildren would face a dismal future.  The AG couldn't answer some of the questions regarding the bill saying that he did not initiate it.
The consensus was to table the bill until the next Fono session.