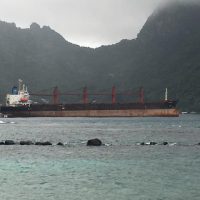 The North Korean vessel Wise Honest is leaving American Samoa.  It has been bought by a US company, and the same tug boat which towed the vessel here in May, arrived yesterday to tow it out of the territory.
Coast Guard Lt. Ryan Junod, head of the Coast Guard Marine Safety Detachment Unit, said the plan is to tow it out of Pago Pago Harbor either today or tomorrow depending on the weather.
Lt. Junod said a company has bought the vessel for scrap metal but he was not aware of where exactly the vessel will be towed to after it leaves here.
The Wise Honest arrived here in early May, after it was seized by the United States in Indonesia due to UN Security Council violations for the transportation of coal.
A statement from the Governor's Office at the time says the Wise Honest was being towed here due to the central, strategic and deep water location of Pago Pago Harbor.  It was deemed feasible and appropriate by federal agencies involved.
Meanwhile the parents of an American, Otto Warmbler who died after incarceration in North Korea filed a clain against the Wise Honest and won.
The suit was aimed at forcing North Korea to pay part of a $500 million court judgment in their son's death.
The US Federal Court in the Southern District of New York authorized the sale of the vessel in July.
Since the vessel arrived in May, many have expressed concern about why its ended up here, worried that it would make the territory a target to North Korea, which is not exactly on friendly terms with the US.
Other concerns were what would happen during strong winds and the cargo ship was swept to shore.
There was one incident shortly after the boat arrived here, when it was pushed close to the old Rainmaker Hotel site during strong winds.
The anchor for the vessel was reinforced and strengthened after that incident.