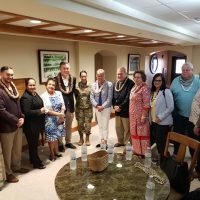 The Congressional delegation that was to visit American Samoa this week has canceled its trip due to Typhoon Hagibus in the CNMI.
According to a press release from Congresswoman Aumua Amata the Department of Defense made the decision to change the flight schedule and leave CNMI ahead of storm, reducing planned events there.  Those changes also led to cancelling the planned stop in American Samoa, along with fewer events in Hawaii as well.
The congresswoman said, "Chairman Mark Takano of the House Committee on Veterans' Affairs will plan on a trip to American Samoa as soon as possible to speak to the Veterans."
She added, "Chairman Takano wanted to reach American Samoa, and has told me he will plan to reschedule a listening session and Veterans-related tour of American Samoa as soon as possible."
The bipartisan CODEL was able to complete meetings with Veterans in Guam and the Philippines, along with reduced schedules in CNMI and Hawaii.
"I've been encouraged by the time spent with other Members over the past few days, and the forums they had with Veterans in the Pacific region will be valuable to efforts to make sure these important services reach our Veterans wherever they live.
"Our ongoing work includes oversight of the VA's modernization effort, and the increase in the federal budget for Veterans' services."
The committee's thoughts are with the people of CNMI.
"Some of us have friends and family in CNMI, and our prayers are with all the people there," concluded Aumua. "The most important thing is their safety and recovery from Typhoon Hagibis."