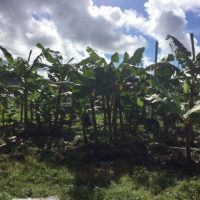 The 2nd Phase of the 2018 Agriculture Census began today and will continue till Friday, October 25th.
Teams made up of employees from the Department of Commerce, Agriculture and Land Grant will be visiting villages to enumerate farms that were counted in the initial survey in May and June this year.
The Agriculture Census, funded by the US Department of Agriculture is to collect information on farming in American Samoa.
The results will show the value and importance of agriculture in the territory as well as progress and changes over the last five years.
The field enumeration will be conducted after hours and the public is asked to please cooperate with field staff who will be visiting their homes and farms.
When the Agriculture Census first began in May, enumerators observed a reluctance from some farmers to give information as they were upset they didn't receive any compensation for crop damage from Tropical Cyclone Gita.
Chief Statistician at the Department of Commerce, Meleisea Vai Filiga explained that this is a federal census carried out in every state and territory every five years and has no relation to the Gita crop damage survey.
You can get more information about the Agriculture Census from the Research and Statistics Division of DOC at 633-5155.