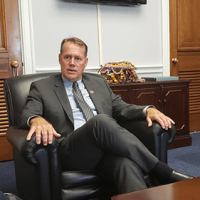 In an effort to step up its presence in the Pacific, the United States has set up its first Congressional Pacific Islands Caucus focusing on issues critical to the region.
Formally announced last month, the bi-partisan group directs its attention to the Pacific region alliances and relationships, defense, environmental challenges and others.
Co-Chair Hawaiii Congressman, Ed Case, joins three other high-ranking members of the U.S. House of Representatives on the first ever Pacific caucus.
Speaking to Pacific island reporters in DC, Congressman Case said the Pacific is key to the world's future yet it's too often overlooked.
"These islands and their maritime exclusive economic zones are not only part of our own Pacific 'ohana but encompass an area larger than the land areas of Russia and China combined," he said.
"Issues discussed in the caucus are driven by interest of community that seeks to represent in the caucus; security is certainly an issue with environmental, economics and sustainability and whole range of issues in next 50 years…"
Mr. Case said the Caucus will serve as a resource in educating members of Congress and their staff on the importance of the Pacific Islands and issues they are facing.
It will also demonstrate the United States' commitment to the Indo-Pacific and specifically to the Pacific Islands, he said.
The Caucus will facilitate communication and cooperation on issues of shared interest between the United States and the Pacific Islands, including development, trade, and regional stability and security.
Congressman Case says now that the region is increasingly under severe economic and environmental stress and China's active presence the U.S. needs to redirect its focus in the island nations.
Co-Chairs for the Pacific caucus are Congressman Don Young (R-Alaska), Congressman Brad Sherman (D-California), Chairman of the House Foreign Affairs Committee's Subcommittee on Asia, the Pacific and Nonproliferation; and Congressman Ted Yoho (R-Florida), the ranking member of that subcommittee.
Photo: Samoa Observer