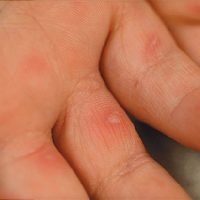 Parents have expressed concern about what appears to be a fast spreading illness which is affecting their children since the start of the new school year.
According to parents who have contacted KHJ News their children have developed a rash with blisters around their mouths, hand and feet and this is accompanied by a fever,
One parent said that when he took his child to the hospital he was told that the disease is hand, foot and mouth disease.
When contacted yesterday Epidemiologist at the Department of Health Dr, Aifili John Tufa said that he was not aware of any outbreak of hand, foot and mouth disease.
But he said that this disease is common among children and is sometimes mistaken for measles.
The way to prevent its spread is by washing hands regularly and also keeping infected children away from others.
The Centers for Disease Control and Prevention states that hand, foot and mouth disease is a common viral illness that usually affects infants and children younger than five years old.
However it can sometimes occur in older children and adults.
Typical symptoms include a fever, mouth sores and a skin rash.
The CDC says people infected with hand, foot, and mouth disease can spread it to others when they cough or sneeze.
You can also get he disease if you come into contact with an infected person's blister fluid or feces.
Reduce the risk of being infected by:
washing your hands often with soap and water for at least 20 seconds.
Disinfect dirty surfaces and soiled items and .
Avoid close contact such as kissing, hugging, or sharing eating utensils or cups with infected people