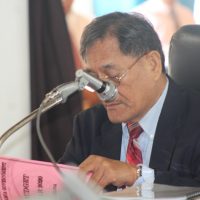 Senator Magalei Logovii has recommended that money allocated in the DPS budget for salary increments be used to buy safety gear for policemen and women who are on traffic patrol.
During review of the DPS budget, Magalei says he's worried for the safety of police officers who are directing traffic at busy sections of the highway without any special gear to ensure that all motorists see them clearly on the road. For example vests and white gloves.
The Tuala-uta senator suggested to the commissioner that some of the funding allocated in the budget for pay increments which end up not being paid , be used to buy the right gear for the cops to use.
Commissioner Le'i Sonny Thompson welcomed the suggestion.
Also during review of the Department of Public Works budget, Rep. Larry Sanitoa questioned if DPW crews who carry out road and debris clearing receive hazardous pay just because the nature of their jobs and the conditions they work in put their lives at risk.
Sanitoa observed that the crews do not have proper attire for working in hazardous conditions.
He said sometimes the DPW crews go underground and wade in water and he's noticed that they wear ordinary clothing that doesn't provide any protection.
He believed these workers should receive hazardous pay and said it's the department's responsibility to provide them with protective clothing and equipment to do their jobs safely.