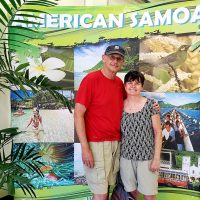 The Director of the American Samoa Visitors Bureau David Vaeafe says off island marketing of American Samoa is necessary to attract visitors who would otherwise not have known about the territory.
The Visitors Bureau budget for Fiscal Year 2020 is maintained at its current year level of $676,000.
Personnel costs for four staffers uses up $311,000. All Others – $183,500:  $50,000 goes to travel; contractual services is budgeted at $77,000; materials and supplies $43,500 and $12,000 for equipment.
There are no changes in the director and deputy director salaries, which are $90,000 and $64,000 respectively.
The other two positions are an executive assistant/special projects at $34,000 and Miss American Samoa whose salary is $30,000.
Rep. Andra Samoa asked Director David Vaeafe about the worth of off island marketing and if the bureau can work on developing village tourist sites.
Vaeafe gave this response.
Play AudioVAEAFE-TOURISM
Photo: ASVB