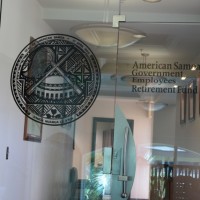 A major overhaul of the American Samoa Government Employees Retirement Fund, including the constitution of the Board of Trustees, is proposed in a bill that was introduced in the House of Representatives today.
The bill 's authors are Representatives Larry Sanitoa, Vesiai Poyer Samuelu and Andra Samoa.
The bill would reduce the membership of the Board of Trustees from seven to five and provides that two of those board members shall be members of the Retirement Fund, who have been financial members for a minimum of five years.
The proposed legislation states that three board members shall be elected by members of the Fund and those elected members shall serve terms of two, three and four years to be staggered.
The bill also requires that the board shall have an annual membership meeting and it sets out the notice requirements and how the notice of the meeting shall be publicized.
It would also require the Board of Trustees to present an annual report of the state of the fund, and allow opportunity for members to comment on any presentation or forum presented during the annual membership meeting.  The actuary,auditor, investment manager, investment consultant and trustee are to make a presentation in person or video call at the annual membership meeting.
According to the legislation, compensation arrangements for members of the board and executive director will be voted on and approved at the annual meeting.
The bill also sets the salary of the Executive Director of the Fund at $80,000.
Another provision of the bill is that any member of the ASGERF who applies for medical retirement must be certified by a licensed physician appointed by the board instead of by the Director of Health as at present.
Also the normal cost contribution percentage and the accrued benefit cost percentage payable must be transmitted to the governor within 120 days of the close of the fiscal year so that they can be included in the budget for the upcoming fiscal year.